If you would like to lighten your eyes, you can!


Utililizing key ingredients that break down the pigments of your eye, changing
your eye color is now a possibility.

It may be true that everyone, or many people, have a blue eye color underneath.

People who had blue, green or hazel eyes as an infant or toddler will lighten better
than those who did not.

Great results have been acheived using our eye drops. Our eye drops help to lighten the eye gradually, and when you stop, the lightening stops.

We offer non-arbutin lightening.
We avoid the use of chemicals, except saline solution. We realize that what
lightens the skin, may actually darken the eyes, contrary to what is written out there.
Pigmentation and your immune system are linked. Blue eyes
are actually a pigment, just like blonde hair is not white, it is actually a pigment.

We do not use ALPHA arbutin, or what may be defined as white chemical extractions of arbutin. This presents a danger to the eyes, but the degree is not yet known. Heavy use of alpha arbutin could present dangers, minor use probably does not. We don't use hydroquinone, that is vision suicide. Trust me it's not worth it. We
make our products so that they contain ingredients that are healthy for the eyes,
and if use as directed, will maintain or even improve your vision!

WE DO NOT RECOMMEND THIS FOR AFRICAN AMERICANS OR PEOPLE WITH DARK SKIN AND BLACK EYES!
The reason is the process can be slow, and many African American people have told me that they think I'm trying to "take their money" by promising them blue eyes when they know that can't happen. It's possible also, that African Americans eye color, or darkly pigmented people's eye color, may return after discontinuing the product. It is for these reasons I don't recommend these for dark skinned, black eyed people, and perhaps contact lenses may be a better solution for them.

FOR PEOPLE WHO WANT TO GET THEIR OLD COLOR BACK! Use MSM alone without any other eye drops, and your original color will eventually return.
------------------------------------------------------------------------------------------
Testimonials:

I work for a Healthcare agency. I saw your website and was curious if this was safe or even real at all. I tried the formula myself. I didn't see any color change, but I could see better, and some minor eye problems I had cleared up. Two weeks after I purchased, I saw some significant lightening. I'd have to say it's safe and it works.

- Alex - Caucasion

I was using my own formula, found your website and decided to try yours. After two weeks I didn't see any change. After one month I saw a big change. It was REAL. My eyes are starting to turn greenish.

-Ricky - Puerto Rican

I tried your formula and was frustrated because I thought it was too small. I re-ordered, and that did the trick. I went through the first bottle quickly, with enough change to believe it worked. The second bottle boosted my lightening significantly

- Sandra - Caucasion

Didn't notice a change at first, using basic formula. I waited one month, with some success, but felt like giving up. Tried again, and noticed a big difference. My eyes were dark brown and now are medium to medium-light.

-Tasha - African American


Below is an example (dramatization) of what can occur when using these drops: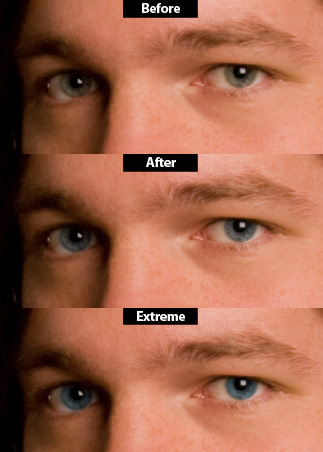 In reality, the bright blue noted in the EXTREME is not likely to occur with people with brown eyes, but a dark navy or greyish navy blue is realistic. People with grey or green can achieve this color but it is not guaranteed.